Accept payments in crypto currencies using NOWPayments gateway!
Today we're launching a new crypto gateway: NOWPayments! New features introduced today also concern Staff Teams, Tickets Departments, domain management and more! Read on for the details!
NOWPayments payment gateway
NOWPayments is the best service that allows to accept crypto payments in their websites and online stores. It's a non-custodial service, meaning it doesn't hold or store funds in any way. NOWPayments supports more than 50 cryptocurrencies, and it offers low transaction fees. HostBill now supports NOWPayments gateway for collecting payments out of the box and it is yet another crypto currencies gateway available for our clients. Currently there are 9 other crypto gateways integrated with HostBill and you can browse them all here.
New features in the admin panel
Staff Members Teams feature allows to group admins and assign them to different teams. Each team has predefined permissions/ACL and admins assigned to the given team automatically are given the permissions attributed to this team. This way you can easily divide admins into different departments with different permission levels, such as billing team, support team, management team, service team etc. Now it is also possible to set the Notifications per Team – in the new section you can select the type of notifications that the whole Team should receive.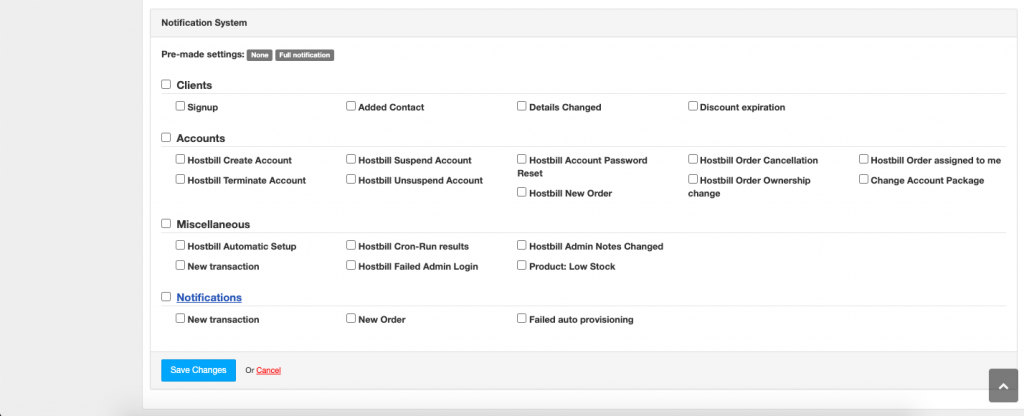 When it comes to the tickets, we also added a new permission for contacts to allow them View all organization tickets.
In the Admin Portal settings section (General Settings -> Other) you can now decide whether or not to Block Re-Creation of terminated accounts. If this option is enabled, once the account is terminated the admin will not be able to re-create the account.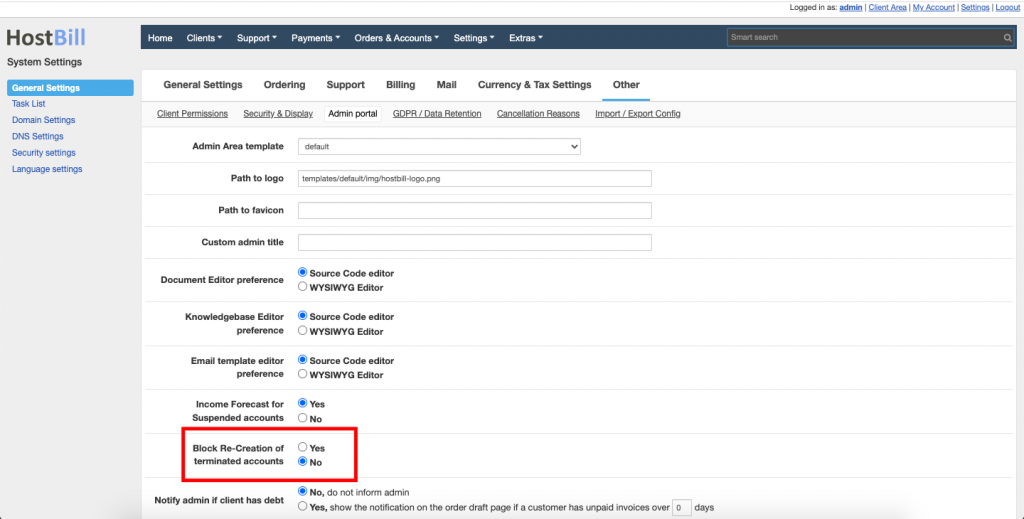 HostBill gives you the opportunity to create various Support Departments with different permission levels and different settings to enhance merchant-client communication. In the Other Settings section for the Ticket Departments there is a new option now to make all new tickets internal. With this option enabled, all new tickets within the department, regardless of the way they were created (by admin, by client, via email) will be made internal.
New option for domain management is an additional flag for domains that are renewed by registry automatically and should not be explicitly renewed by HostBill. With this flag on HostBill will not be attempting to renew the domain automatically. This option is currently available for selected domain registrars.

In today's release there is also a bunch of changes within various modules. Two new features were added to Xero.com import/export plugin: option to set bank account for payment gateways for each brand and option to set Product Code for discount, add funds and gateway fee. OpenProvider domain registrar will now accept premium domain fee only if domain was ordered as premium from the cart. In Proxmox, there is a new recovery client feature that can be used to automatically boot admin selected recovery image.
All of the changes, new features and bug fixes as usual are listed in the Changelog.