Process payments in HostBill using NEW gateway: Cryptomus!
Accepting payments in HostBill in crypto currencies now can be done using a new payment gateway: Cryptomus! We also added multi-language support for News and RSS feed, a new method for Custom discounts in Order Drafts and more!
Cryptomus Payment Gateway
A new payment gateway has just been added to HostBill! And not just any gateway, a crypto payment gateway – Cryptomus! It helps you to receive crypto payments from anyone in the world. Thanks to Cryptomus you can expand your payment options by adding crypto – the gateway supports multiple coins and blockchains, including bitcoin, USDC, Dash, DOGE, Tronix, Toncoin, Binance USD, Tether (USDT), MATIC and many many other! HostBill now supports Cryptomus payments out of the box. The integration is free and available to all HostBill users! You can simply just enable it from your admin panel. Crypto payment gateway (any crypto gateway, as there are more available in HostBill) can be a perfect addition to the payment options available in your store!
And why accept payments in crypto currencies? Cryptocurrency is considered more secure than credit and debit card payments. This is because cryptocurrencies do not need third-party verification. Among the benefits of crypto payments it's often mentioned that they come with lower transaction fees, instant settlement times, a reduction in fraudulent chargebacks, and access to an affluent and growing consumer base.
RSS feed & News – multi-language support
In HostBill, if there's anything you want to announce to your clients: important events considering your business, an introduction of a new feature, new product, etc. the News section is a prefect way to keep your clients up-to-date. The News is displayed in the client area in the Dashboard section. Now, it is possible to post news in multiple languages (provided that you have multiple languages enabled for clients). How does it work? If you have three client languages available, for example: English, German and French and you will post news translated to all of those languages, each client will see the news in their dashboard in their respective language!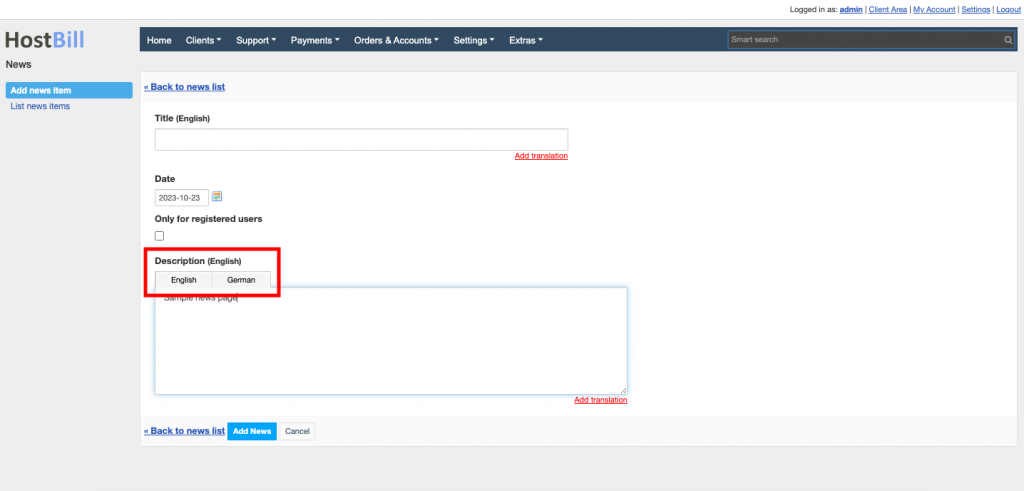 There is also a RSS feed plugin available for the News, which adds the RSS feed of the latest news in your HostBill client area. And now it also supports multiple languages.
Custom discounts in Order Drafts
HostBill gives you the possibility to create order drafts from the admin panel and later generate orders from drafts or turn them into Estimates. When creating a new order draft you can add a discount using existing coupon codes or now you can also create a Custom Discount, where you can specify the type and value of the discount and decide whether the discount should be applied only once or be recurring!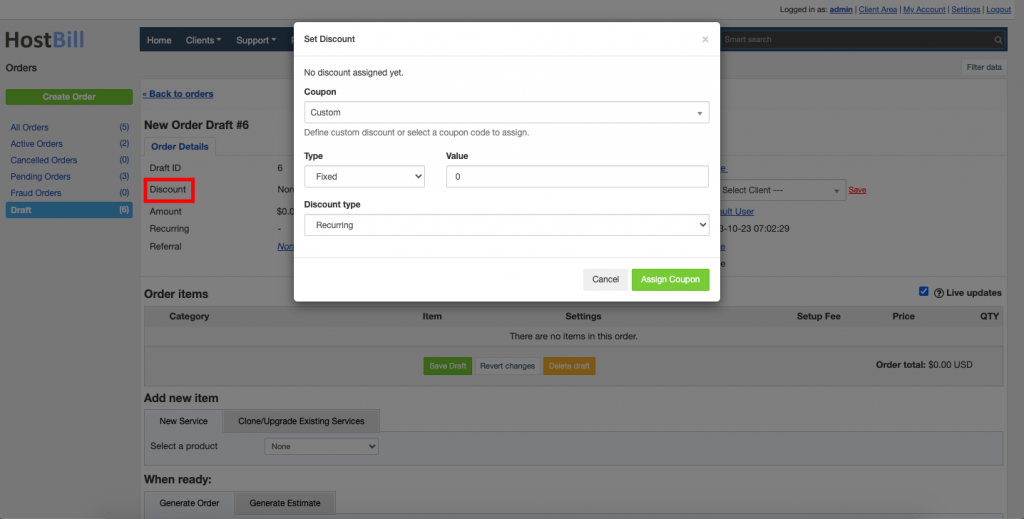 There are more new features introduced today – take a look on the Changelog!