Sell Shared Hosting with Enhance and HostBill!
We're happy to introduce new Shared Hosting integration: Enhance module! In today's release you'll also find new report type, new ticket types and more!
Enhance module for HostBill
Enhance is a secure and infinitely scalable website, server and client management web hosting control panel built for the modern host. HostBill integration is a tool to resell Enhance Shared Hosting Services with full automation starting from billing and invoicing through payment collection to service provisioning and management. Flexible product configuration and billing options enable to bill clients for disk space, domain aliases, FTP users, MySQL databases, page views, processes, data transfer or websites. The module supports the Quotas / Account Metrics feature and enables setup limits and display usages, trigger automation based on usage and bill actual resource usage. Service automation covers the whole account lifecycle, from creating the account, through suspension on predefined conditions to terminations. Admin panels allows to import existing accounts data from your Enhance to HostBill. Clients can display access details in client panel.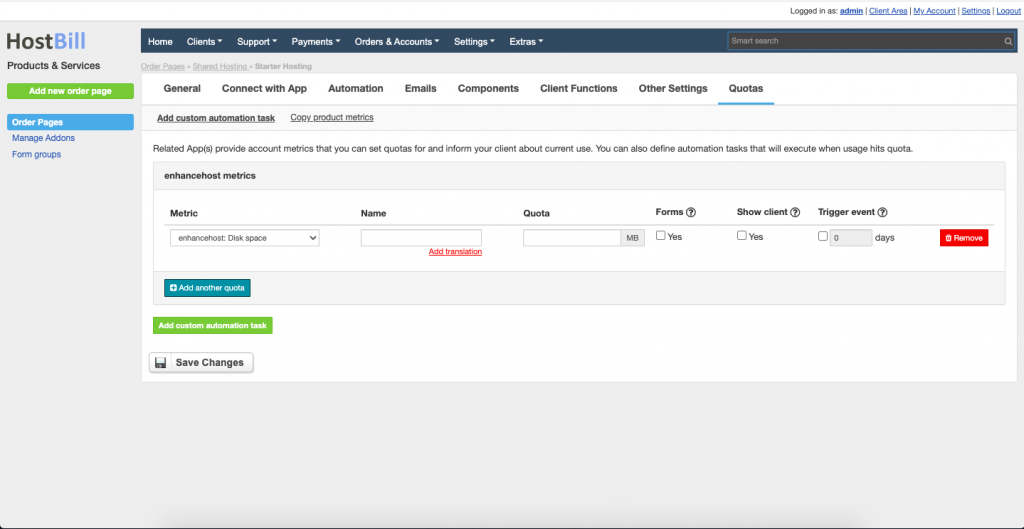 New 12 months income forecast report
HostBill allows you to generate various reports, either using pre-defined templates that can also customized or optionally you can create your own report based on your individual needs. New report includes 12 months income forecast. It can be downloaded in various formats (pdf, html, sql, txt, csv, googlechart, json) and the results can also be stored in Report Snapshots section. Optionally you can set frequency to auto-snapshot report data. Additionally, you can create a widget to be added to admin dashboard.
New ticket types
When creating a new support ticket in HostBill there is a number of options for better ticket management and organizing the tickets. One of those is ticket type, so you can categorize the issue. Available options are general, incident, problem, question, task and now there are three new ticket types: project, delivery, billing.