Sell DNS services with Simple DNS Plus module!
In today's release we're presenting new module which enables to resell DNS services, new settings for Ticket Departments and a number of other updates!
Simple DNS module
Simple DNS is a DNS server software for Windows, with simplified DNS management through an intuitive GUI, with many powerful features. HostBill integration gives you the opportunity and resources to offer DNS services to your clients in a fully automated way and in various combinations: you can charge per DNS Zone, offer free DNS to other services or offer DNS management for domain names. To make it all hassle-free, in HostBill most of the processes are automated: creating the account, importing zones, importing/exporting and managing DNS templates, account lifecycle and more. End clients can handle their services in the client area, with various client functions available: create and manage DNS zones and records, clone records, manage DNS entries, apply DNS templates in bulk and more.  Admin panel enables to list client zones, import/export DNS templates and manage and control client information.
Ticket Departments: Business Hours
HostBill gives you the opportunity to create various support departments with different permission levels to enhance merchant-client communication. This feature will help you to better organize your staff and your communication with clients.  New option in department settings enables to set business hours for given department. This way, when adding new SLA (a policy to act on tickets, which can be used for example to escalate unresponded ticket to a higher priority, overdue unclosed ticket or ask to close tickets that are in unanswered state), you can also define whether a macro should be executed.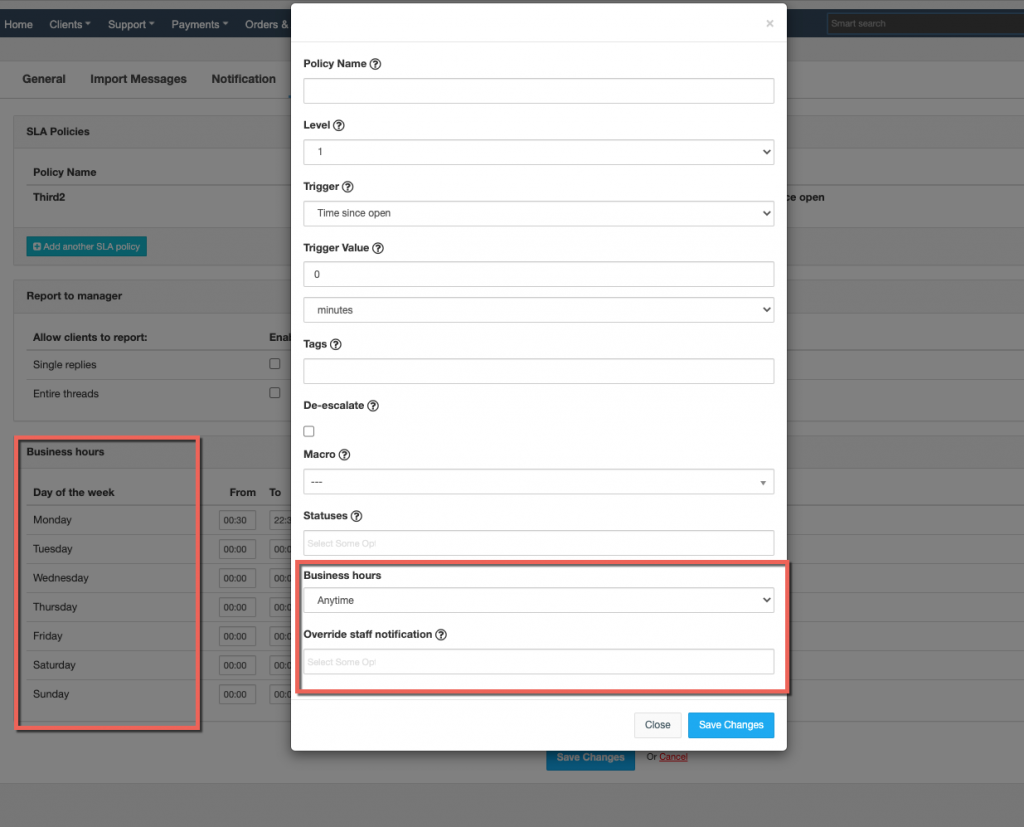 In SLA settings we have also added new option to Override staff notification. If there are any staff members set, they will get notification "Ticket:Escalated".
When it comes to tickets, a new option is also available now on the ticket page that allows admins to block clients from reopening a ticket.
Today's release is also packed with new features added to the modules: DirectAdmin, Hetzner Cloud, LibreNMS, SmarterMail, Twilio SMS and more – check the details in the Changelog!